The Man Who Changed Into a Fly





Phases of the story I have created are depicted in textile works and clothes.



Fashion Project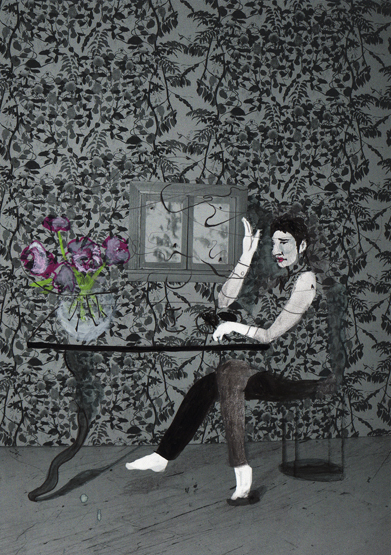 "There was a man who was eating dinner at the dining room, where is covered by a beautiful wallpaper with a nature pattern. It was a favorite room for him and his girlfriend because of this wallpaper, but also there was a full of sunshine in the daytime coming through from the window which face to the south, and also could see the beautiful garden behind the house.
He was alone at the time, but there were many flies flying into the room and flying around him, especially he was eating his meal. He could not stand with this nuisance of flies, so he started to smash flies out of his temperament. But more and more he tries to smash the flies, more and more the flies coming in and he got surrounded by them.
Slowly, he started to be covered by all the flies, and in the end, he was completely covered and became totally black. He struggled to get rid of them and coming out from this layer of flies. But meanwhile his cells were slowly getting shrinking. After all, he became free finally, he could move and see. And then he realized that his surrounding got much bigger and his hands got hairy, long black arm. he didn't know what happened, he was in panic. And suddenly, his girlfriend came into the room. As he was happy to see her, he instantly flew to her face and cried an talked her. He thought he could talk human language, but seems like she did not understood. It was just very nuisance to her, and she swang her hand around her face.

Her hands were very fast, he couldn't no way escape, he got smashed sadly.
And she didn't know why he was dissappeared, sadly. "